Professional Negligence
A Guide to Understanding When Solicitor Negligence Has Occurred
If a solicitor has been negligent it's important to know that you have the right to be compensated. Here we cover some of the common grounds for solicitor negligence.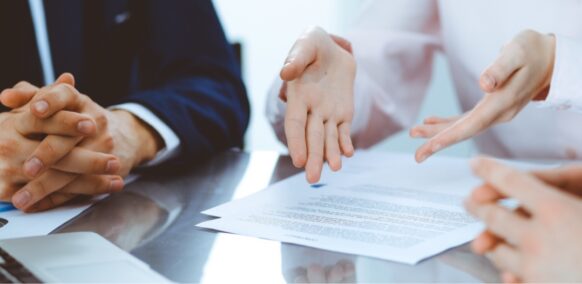 Understanding solicitor negligence
The legal profession in the UK is highly regulated and solicitors, barristers etc. are highly trained and qualified professionals. However mistakes can occur. If these mistakes lead to loss or harm (financial or otherwise), it's important to know that you have the right to be compensated.
However the thought of suing a solicitor or other legal professional is more than a difficult prospect for most. As long as your case is a valid case of negligence though, the process is probably more straightforward than you would think, and there are many specialist advisors available to help.
In the UK the legal profession is overseen by the Solicitors' Regulation Authority (SRA). The SRA exist to ensure standards of service and to help and advise those that feel the service they have received is not up to that standard. To this aim the SRA compile a Solicitor's Code of Conduct which is available at the SRA website. The code of conduct may be your first port of call in determining if you have a case for solicitor negligence.
A 100%, set in stone definition of legal negligence is exceedingly hard to come by due to the complexities and variety of situations that may be encountered. All legal professionals though are expected to provide a 'Duty of Care' to their clients. This means that if the level of service you've received is not up to the standard provided by others in the profession as a whole, or if it did not comply with the SRA's Code of Conduct, and furthermore that you have suffered loss (financial or otherwise) as a result, then you may have a case for solicitor negligence.
For our purposes a working definition of legal negligence may be taken as follows:
Negligence: Conduct that falls below the standards of behaviour established by law for the protection of others against unreasonable risk of harm. A person has acted negligently if he or she has departed from the conduct expected of a reasonably prudent person acting under similar circumstances.
Some of the more common grounds for solicitor negligence are listed below:
Missed Limitation dates — In many areas of law there are limitation dates. This is a period of time after the event, in which legal proceedings must be commenced in order to be considered by the courts. If your solicitor's actions cause this time limit to be missed you may have a claim for negligence.
Under-Settling a Personal Injury Claim – When dealing with a client's personal injury compensation claim a solicitor must make sure that they provide accurate advice regarding the potential settlement.
Suing the wrong party — It might sound unlikely but it is by no means an uncommon occurrence that a Solicitor may issue proceedings against the wrong party.
Errors in drafting a will or other contract — You can make a claim against a legal professional if mistakes were made in the process of the drafting of a will, or indeed any other legal contract.
Failure to advise about planning permissions or building regulations — solicitors are often brought in to advise on legal issues around purchases or renovations of properties. If you have been wrongly advised about local planning permissions or building regulations this could be grounds for negligence.
If I have a case how do I finance it?
Most professional negligence solicitors will pursue cases on what is known as a CFA or Conditional Fee Agreement. This is a 'No Win No Fee' arrangement essentially — if the solicitor does not succeed with your claim you will be charged no fee. If the solicitor wins your case you will be charged an amount that is a previously agreed upon percentage of the eventual settlement.
Contact us today
If you think you may have grounds for a solicitor negligence claim, the next step is to find a reputable legal firm to represent you. At Been Let Down we have a proven track record of winning such cases over many years.
Please call us on 0800 234 3234 or contact us giving us brief details of your situation, and a member of our experienced legal team will call you back to discuss your case in detail.