Cosmetic Surgery Compensation Claims
Tummy Tuck (Abdominoplasty) Compensation Claims
When you undergo abdominoplasty surgery you expect only the best patient care during the procedure and your recovery, but sometimes things go wrong. Our solicitors are here to help you bring a claim against negligent healthcare and get the compensation you deserve.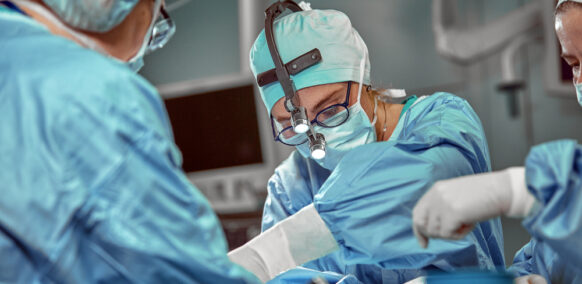 What is an abdominoplasty?
Abdominoplasty surgery better known as the 'tummy tuck', is a procedure used to improve the shape of the abdomen.
During the procedure, the surgeon removes excess skin and fat from the abdominal area and tightens the abdominal muscles to make the tummy look flatter and more toned.
There are various reasons why this procedure is undertaken, but commonly it's for women who may have recently given birth, or those wishing to look slimmer. The procedure is usually only recommended for those with a healthy Body Mass Index (BMI) and because it is considered cosmetic surgery, tummy tucks are not usually available on the NHS.
Tummy tuck procedures can be carried out using different methods, however, the surgeon will recommend the best approach based on your goals and needs.
What is a tummy tuck abdominoplasty claim?
Abdominoplasty claims are often brought against surgeons and healthcare professionals for medical negligence during the tummy tuck procedure or patient aftercare. If you feel that mistakes were made during your care that have resulted in prolonged pain or other physical injuries and psychological consequences you could be entitled to compensation.
You may be able to bring a tummy tuck claim against your medical team if you encounter problems with your abdominoplasty. These can include:
Nerve damage – numbness in the abdominal region
Skin and/or fat necrosis (lost blood supply to the tissue resulting in complications)
Blood clots
Thrombosis
Pain and infection post-operation
Bowel injury or perforation
If you or your loved one has suffered from one of the above side effects because of medical negligence, then you could have a valid compensation claim.
Why make a tummy tuck compensation claim?
Any form of surgery comes with risks but it is the responsibility of your surgeon to explain the potential complications associated with your abdominoplasty before you proceed and ensure that they carry out the procedure to the expected standard. If they did not, they may have been negligent if you then went on to suffer an injury.
In order to prove a clinical negligence claim, we have to prove:
Breach of Duty — The healthcare professional treated you in a way that no responsible healthcare professional in the same field would treat a patient.
AND
Causation— Proving that the harm done to you is a direct result of the negligent action, and it wouldn't have otherwise occurred. This is assessed on the balance of probability, so there must be at least a 50% chance that the medical practitioner caused the damage.
If we are able to prove both elements we will secure compensation for any injuries you have suffered and include a claim for any financial losses you may have incurred, such as loss of earnings or the costs of any additional treatment you may have needed.
If you or a loved one has suffered from a negligent abdominoplasty, get in touch with Been Let Down and we'll discuss whether you have the grounds for a tummy tuck compensation claim.
Why choose Been Let Down for your tummy tuck compensation claims?
We have over 15 years of experience in medical negligence law here at Been Let Down so we know what we are talking about when it comes to your claim. We understand how a botched abdominoplasty can affect your life, therefore our team of Solicitors are dedicated to getting the best outcome for our clients in their tummy tuck compensation claims.
Our solicitors are recognised by The Law Society, Association of Person Injury Lawyers, The Legal 500 and Chambers and Partners as specialists in this field so you can be rest assured that you'll receive the highest quality service from a team of experts.
Our SRA-accredited team of solicitors has supported hundreds of clients across Wales and England, and we've acted with only their best interests at heart. We feel so strongly about this that all our cases are No Win No Fee – we'll take on your tummy tuck claim and only charge you if it's successful.
When it comes to your case, you'll have a professional negligence solicitor by your side every step of the way. You'll also receive an initial no-obligation consultation that will help us collect the details of your case and start the process of getting you compensation.
Abdominoplasty claims FAQs
How do I know if my tummy tuck has gone wrong?
A negligent tummy tuck can cause serious medical complications so it's useful to know what to look out for. Signs that your tummy tuck has gone wrong include:
Excessive scarring
Infections
Asymmetry in your belly button or stomach
Numbness in your stomach or down your leg
Excessive bleeding
If you are experiencing any of the above, you must contact a medical professional and seek legal advice immediately. The medical practitioners involved in your treatment should explain how likely these risks are and how they will be treated if they happen. Our specialists will discuss your concerns in full to assess whether you have experienced a recognised complication that you have been advised of or whether you may have claim for medical negligence.
Can a tummy tuck cause problems years later?
As is the case with any surgery, there is the risk that you could suffer problems from your tummy tuck years later. Fortunately, these side effects are rare and occur in a small number of patients.
After an abdominoplasty, there is a risk that the blood supply to your abdominal wall will become interrupted and could result in skin necrosis, heavy scarring, and further need for surgery. There's also the chance that your scarring can become lumpy and uneven in height.
How painful is a tummy tuck recovery?
As with other invasive surgeries, you are likely to experience discomfort when recovering from a tummy tuck. Your abdomen will be sore and swollen, with the worst of the pain experienced during the first week. Many patients report abdominal tightness, but this sensation will dissipate as you continue to heal.
It will take between four and six weeks for the initial recovery from an abdominoplasty with most patients getting back to normal activities within 3-6 months. You'll usually be asked to wear some sort of tummy control pants for the first few weeks to encourage the skin to properly heal and reduce any swelling. You are likely to be asked to avoid any physical exercise and keep your knees bent when in bed to avoid putting strain on your stitches.
All post-operation information should be relayed to you by your primary medical physician before and after the surgery. If the professionals involved in your procedure fail to give you the proper aftercare, you should contact our legal team to see if you have a tummy tuck compensation claim.
How often does an abdominoplasty fail?
Abdominoplasty surgery is a popular cosmetic surgery in the UK with 1,488 tummy tucks being performed in 2021. Most doctors consider this procedure safe to perform and you'll be happy to hear that only a small percentage of tummy tucks fail.
If you happen to fall into this small category due to medical negligence or after-surgery complications, we are here to help where we can. Though we cannot repair the physical and mental trauma you've endured, our legal team here at Been Let Down will do everything we can to ensure you're compensated if your tummy tuck has gone wrong.
We're here to help you
If you feel you have suffered injury or emotional distress as a result of a failed and negligent tummy tuck operation, you may have a claim for compensation and other losses.
Get in touch today and find out how we can help with your compensation case. Please call us at 0800 234 3234 or contact us and a member of our legal team will call you back.