Negligence Claims against Property Professionals
Architect Negligence Compensation Claims
When you instruct an architect you expect them to act with reasonable skill, care, and diligence. If an architect makes a mistake or provides a bad service, rectifying their work can be very expensive and time consuming.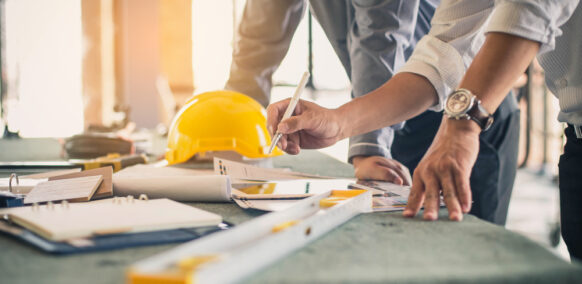 Please note we are currently not taking on claims against architects
Architect Negligence Claim
Architects are highly skilled construction professionals specialising in the design and alteration of buildings. They typically prepare drawings, provide cost estimates in conjunction with a quantity surveyor, and enter into contracts to supervise and manage building projects.
If an architect has designed a building and the subsequent construction was undertaken by a building contractor, the architect may be responsible for the works being acceptable in accordance with the standard building regulations and architectural plans.
Like all professionals, architects must act with reasonable skill, care, and the diligence expected of a competent member of their profession. Standard of care is usually established by reference to the general practice of the profession in question.
In most building projects, there is a contract between the client and the architect, which sets out the duties and responsibilities of both parties. This contract will also impose specific obligations and professional standards.
If standards aren't met or mistakes are made, you could be in a position to make a claim for architect negligence. If this is the case, Been Let Down can help.
What is architect negligence?
Errors and/or omissions by architects are not uncommon in the construction industry and can lead to negligence claims. But what is architect negligence?
Problems with work carried out by an architect can lead to serious consequences for a building's design, structure, and even its intended purpose. And the financial implications to resolve such a defect can be significant.
For instance, Mr Philip Freeborn and Mrs Christina Goldie v Mr Daniel Robert De Almeida Marcal (Trading as Dan Marcal Architects) [2019] EWHC 454 (TCC), where the architect had been tasked with designing a cinema room at the home of the claimants.
As the architect changed the design without speaking to their client first, a claim of professional negligence against the architect was made. The claimants won and were awarded damages that allowed them to demolish the cinema and start again.
Like other examples of professional negligence, architect negligence is something that requires the expertise of skilled solicitors to prove. If you believe your architect has been negligent in the supervision, management, or design of your building project and you have suffered a financial loss, you may have a case for a negligence claim, and this is where we come in.
Some examples of architect negligence include:
Inadequate plans/drawings
Negligent design advice
Negligent building supervision
Poor project management resulting in financial loss
Inadequate budget planning (grossly undervalued)
Contractual disputes with other building professionals which result in financial loss to you
How will I know if I need to make a claim?
If the architect you have hired – whether it be for a personal project or a commercial property – has made any of the errors listed above, or one that's similar, you potentially have a claim for architect negligence compensation. The above isn't an exhaustive list and there may be the possibility to make a claim for work carried out by an architect that doesn't fit these examples.
At Been Let Down, we've worked on a broad range of architect negligence cases, so do contact us if you think you have a claim. You should consult our legal experts as soon as you can, as strict time limits apply, and we want to make sure you get the compensation you might be entitled to.
Perhaps you're trying to work out how the building project will continue from this point, or maybe you're losing out on revenue because building work has fallen behind schedule due to failings on the part of the architect. Whatever your circumstances, by ensuring you receive some sort of financial reimbursement, we hope to help you get everything back on track.
How can I get help after being impacted by architect negligence?
While not all errors made by architects have dramatic results, there can be serious consequences to things being missed and buildings can even become dangerous as a result of something as precise as a measurement being incorrect by a couple of centimetres. If you believe that you have been the victim of architect negligence, you may be able to bring a claim for compensation. That's where we may be able to help you.
We have a team of experienced solicitors that understand how intricate this type of case can be. They have the skills necessary to win the compensation you deserve.
How do I make a claim?
If you think that you have suffered financial loss due to the negligence of an architect, we can help you claim for damages. It's important to distinguish between simply poor service and negligence that has led to losses. For cases of poor service, you may be able to submit a formal complaint. Please take a look at our negligence or just a complaint section for further information.
Contact us today
To start the claims process, get in touch today and we will find out about what happened and explain the next steps. You can also call us, make an online enquiry, or request a call back at a time that suits you. Contact the team and we will be able to begin resolving the problems you're facing. 
Here to help you
Get in touch today and find out how we can help with your case for architect negligence compensation.
Please call us on 0800 234 3234 or contact us and a member of our legal team will call you back.