Medical Negligence Solicitors
Accident & Emergency (A&E) Compensation Claims
A&E departments tend to be one of the busiest parts of a hospital and is where most patients experience negligence. On rare occassions when you might need to visit A&E you expect that the medical staff treating you will look after your safety and provide you with the highest levels of care.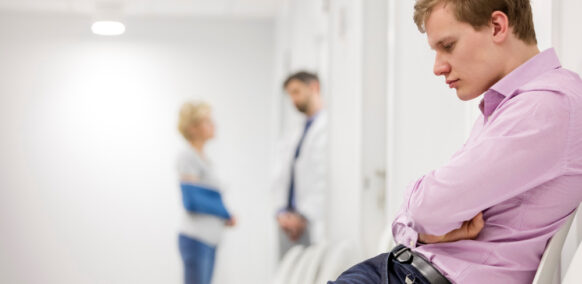 Accident and Emergency Claims
Accident and Emergency (A&E) departments in most hospitals are extremely busy and under a lot of pressure. If you have an accident or become ill suddenly, it's likely you will visit your nearest hospital's A&E for treatment. However, no matter how busy the A&E department is, the medical team working there still owes you a duty of care.
It's vital that the doctor overseeing your treatment carries out all the necessary examinations and tests to make the correct diagnosis and work out a treatment plan for you. If they get it wrong, you may end up suffering as a result. If you have suffered due to mistakes made during your visit to an A&E department, you may consider starting an A&E claim.
Here at Been Let Down, our expert team is skilled in helping individuals and families to pursue A&E compensation claims. We guide clients across England and Wales through the process with the aim of securing them the compensation they're entitled to.
What are the common things that can go wrong in A&E departments?
A&E departments tend to be one of the busiest parts of a hospital. Here, doctors have to make decisions in a pressured environment where time is of the essence, so they need to move quickly and accurately to treat you.
With everything moving so fast, things can be missed. But, regardless of how hectic things get, the hospital and the medical staff treating you are legally obliged to look after your safety and provide you with the highest levels of care. When things go wrong, this can be classed as medical negligence.
Unfortunately, A&E is where most patients have experienced negligence. Emergency medicine is the speciality that saw the most claims against the NHS in 2018/19, with 13% of clinical negligence claims coming from this area.
There are several examples where you may have received negligent treatment. For instance, your condition might have been missed, making it worse and causing you to suffer for longer. This, in turn, could result in more invasive treatment being necessary as a result.
Of course, there are inherent risks to undergoing all medical procedures, and the risks should be fully explained to you by an A&E doctor prior to any medical procedure. If this was not the case, you may have grounds for a claim. Equally, if you have been discharged without being properly assessed or investigated, this could also be the type of negligence that can result in A&E negligence compensation claims.
Another example is where your doctor misdiagnosis you. Here, you may have received inappropriate treatment that you did not need and, as a result, this caused you additional harm or pain and unnecessary suffering.
Here are more of the common things that can go wrong and result in accident and emergency compensation claims being made:
Failure to properly examine you
Failure to take an x-ray, so a broken bone or fracture is not spotted
Failure to review a medical image correctly, or in some cases, at all
Failure to carry out appropriate tests
Inaccurate reporting of test results
Failure to get full patient records
Failure to arrange follow-up or to refer you to a more specialised department
Misdiagnosing your illness or condition, therefore missing things like meningitis, heart attacks and sepsis
Delays in treatment
Sending you home when you should be in hospital being monitored or having emergency treatment
Giving inappropriate medication or treatment which causes you harm
This is not an exhaustive list, but these are the main reasons why many A&E compensation claims are brought.
What can happen as a result of A&E negligence?
In some cases, patients will go to A&E with one condition or having suffered one accident and leave with additional or worse injuries. Some of these include:
Head injuries due to a missed concussion diagnosis
Back and spinal injuries caused by missed diagnosis or delayed treatment
Infection because of missed symptoms of sepsis
These are just some of the complications that can occur as a result of medical negligence in A&E departments. In these cases, patients would have grounds to make A&E negligence claims. If you've experienced injury or further damage after attending A&E, starting the claims process with us could help as you begin the road to recovery.
Is it possible to make a claim?
If you're thinking of making an accident and emergency compensation claim, it's important that you know when the negligence occurred before you proceed. This is because there are time limits in place for you to pursue a claim.
The timings for a medical negligence claim depend on whether you were injured during your time in the hospital or if you have been diagnosed with a medical condition later on that has occurred as a result of your initial A&E visit. If it's the latter, then a three-year time limit is set from the moment you were diagnosed.
If you think what happened to you falls within the time limit, please contact us. However, even if you're approaching the three-year cut-off point, please do speak to us as our team may still be able to help. Our solicitors are experts in A&E compensation claims and can establish early on if your case could be successful.
We understand that you've already been through a lot. That's why our expert solicitors will take great care to find out what happened and will let you know if we think your claim could be successful.
How to make an A&E claim
If you're thinking of speaking to us, you will already have suffered a lot. You might still be receiving treatment to reverse and correct the damage that's been done. If you've had to take time off work due to the negligence you've encountered then this can add further pressure as you could have had a reduced income, and this can impact on your wellbeing.
With this in mind, starting the A&E negligence claims process can put you on the path towards recovery. It can set you in the direction of receiving the compensation that you're entitled to and help you to rebuild your life.
When you get in touch with our accident and emergency compensation claims team, you'll be asked questions about what happened. We'll establish the timeline of events and find out more about the injuries you've sustained or the condition you have as a result of the negligence.
This conversation will help us to work out two things. First, we'll make sure that your case falls within the three-year time limit. Then, we'll determine whether it's a case that we think you could win.
By speaking to us today about what happened, you can make the move towards seeking the compensation that you deserve. So, if you think you have a case, please call our legal team and they will be able to take you through every stage of the A&E claims process.
Contact us today
If you feel you have been let down and have suffered additional injury as a result of negligent treatment in an A&E department, you may have a claim for compensation and other losses. We have experience and expertise in A&E compensation claims and our medical negligence team will listen to you.
Get in touch now and find out how we can help with your case for A&E compensation. Call us on 0800 234 3234 or contact us and a member of our legal team will call you back.