Negligence Claims against Property Professionals
Conveyancing Negligence Compensation Claims
When you instruct a conveyancer you expect conveyancing transactions to complete according to plan. If a conveyancer makes a mistake it can have serious consequences for you – causing either financial loss or loss of chance.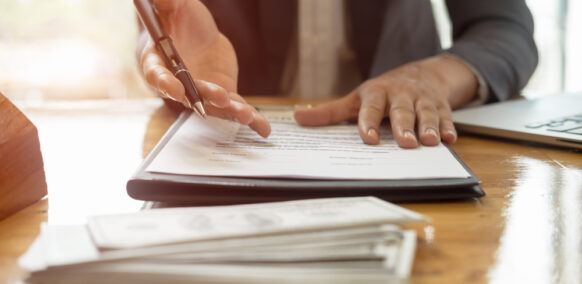 Making A Conveyancing Negligence Claim
Buying your first house or climbing the property ladder – either way, moving home is one of the most stressful life events. There is often so much to think about. So, it is essential that you find experienced, competent and diligent legal professionals to help. But what if you are let down by the advice or guidance you receive? You may be able to make a conveyancing negligence claim.
Competition in the UK housing market is fierce. If you require the services of a conveyancer, finding the right one can be a minefield. And if anything goes wrong during the sale or purchase of a home, it can be extremely confusing to know where to turn for help. This is where Been Let Down come in – thanks to our experience of handling conveyancing negligence cases.
All too often, conveyancing transactions do not complete according to plan. Errors can be made and land searches can be missed or misinterpreted. It can have serious consequences for you – causing either financial loss or loss of chance. If you have been failed by a solicitor in a current or previous purchase or sale, we can help – contact our conveyancing negligence team today.
How can we help with a conveyancing negligence claim?
If the negligent act of a conveyancing solicitor or licensed conveyancer lets you down and you lose out financially during the sale or purchase of a home, you may be able to make a conveyancing negligence claim.
Been Let Down's team of legal experts have handled many professional negligence claims against conveyancers. Our knowledge and guidance give you the best chance of getting the recognition and compensation you are owed when you suffer as a result of conveyancing negligence.
When you find out that your conveyancing solicitor or licensed conveyancer was negligent, it is important that you find a professional negligence solicitor who is sensitive to the many factors involved. Our legal experts fully understand the issues that matter to you. We have handled many conveyancing negligence cases and can appreciate the stress and concern you are experiencing.
As such, the Been Let Down legal team are here to support and guide you through your claim in a helpful, friendly and expert manner. Call 0800 234 3234 or contact us to find out more.
What is conveyancing?
Conveyancing is an essential part of buying or selling a home. It is the legal process when the ownership of a home is transferred from a seller to a buyer. It often starts when an offer is accepted and ends when the sale is completed.
This involves making enquiries and searches about the property to see if there are any issues that could affect the transaction. It includes, for example, checking the extent of the property to be transferred; whether any third party has any rights over the property; whether there are any restrictions on the use of the property; confirming current ownership with the Land Registry; whether the property benefits from planning permission and building regulations approval; checking the flooding risk; and whether there are any development plans which may affect the property.
What is the Conveyancing Quality Scheme?
Solicitors or licenced conveyancers are typically members of the Conveyancing Quality Scheme (CQS). It means that, as professionals, they must meet certain standards, including a duty to provide competent service. If your conveyancer breaches that duty, you should seek the help of professional negligence experts with strong expertise in conveyancing negligence cases.
What does conveyancing 'negligence' mean?
Unless you are a first-time buyer, the conveyancing process is likely to involve both a purchase and a sale. Timing is always critical. But there are many other things that can go wrong – even when your professional has carried out the same process many times before.
Here are just some examples of common conveyancing negligence claims that we can help with:
Not properly investigating title(s)
Failing to look at restrictive covenants
Missing any rights of way
Building regulation certificates not present
Planning problems
Failing to perform full searches
Failing to advise you about adverse entries on searches
Land Registry failures
Not correctly defining boundaries
Failing to take account of survey reports
Not removing registered charge or mortgage
Not paying off the mortgage on the sold property
It is important to remember that these are just a few ways that things can go wrong. Conveyancing is a complex process. That is why you should get in touch with legal experts who have the experience of handling professional negligence claims against conveyancers if any mistakes have been made that have led to a financial loss.
When assessing your case, it is important to make the clear distinction between poor service and negligent service. You may be able to lodge a formal complaint if it is technically defined as poor service – but not negligent. Please refer to our frequently asked questions for more information.
But if you believe you have suffered as a result of conveyancer negligence, please get in touch to speak to a member of our legal team. Call 0800 234 3234 or contact us today.
What is a Legal Ombudsman?
If you are unsure if your conveyancer is accountable for the problems you are experiencing, one good starting point is the Legal Ombudsman. They can advise whether you received an adequate service when buying or selling a property – effectively acting as a conveyancing ombudsman.
They are unable to offer you legal advice and cannot help you make conveyancing negligence claims against your licensed conveyancer. For this, you will need to contact a dedicated team of legal specialists who have expertise in property law and your rights.
How do you know if you have a conveyancing negligence claim?
A conveyancing negligence claim can take many forms and impact you in different ways. Some of the reasons you might have a valid claim include:
Uncovering serious defects in the title of the property that mean you do not have the right to services such as water, electricity or sewerage
Not being able to make alterations to a new home because of planning restrictions or other restrictive covenants you weren't made aware of
Finding out that an extension at the property does not have the correct planning permission or building regulations approval
The value of your home being reduced due to nearby building development projects
Having to go through the costly renegotiation of a lease agreement with a freeholder because the length or terms were not properly explained
Finding out that part of the land and/or property was not included in the purchase of your new home – such as a garden or garage
Finding out that you do not have rights of way to access part of all of your property, or that someone else has a right of way over your property
If you are confident that you suffered a recognisable financial loss due to the actions or inactions of a conveyancing solicitor or licensed conveyancer, you should get in touch with us today by calling 0800 234 3234 or using the online form on our contact page.
A member of the legal team at Been Let Down will listen to the facts of your case and can advise if you have a valid conveyancing negligence claim.
How to start the process
If you are unlucky enough to suffer problems due to negligence on the part of your solicitor or a licensed conveyancer, you may be feeling frustrated and unsure of your legal options.
Here at Been Let Down, you will discuss your conveyancing negligence claim with a member of our specialist team in the strictest of confidence. The financial impact of professional negligence during the conveyancing process can be devastating to your personal and/or company finances.
The advisable course of action is to get in touch with our trusted specialists to assess the legal details of your case. Poor conveyancing can have many implications – not least that your family home and your security may be put at risk.
How to prepare your conveyancing negligence claim
Our solicitors are experts when it comes to professional negligence claims and you can count on us to help you. To ensure we can build the strongest possible conveyancing negligence case, we will need you to provide us with full details of what happened.
This includes copies of all paperwork you received from your solicitor or licensed conveyancer – as well as dates and times of events as they occurred.
Conveyancing is a complex area of law. So, you must instruct a solicitor with experience of conveyancing negligence claims. It is our job to build a strong case against the insurance company of your conveyancer – proving you suffered substantial and damaging losses due to the omissions or incompetent actions of their client.
By trusting your case with our professional and specialist claims solicitors, you can rest assured that your case will be handled in both a timely and efficient manner. It is essential that you are reimbursed fairly and fully for any losses incurred – financial, emotional or practical.
How does a conveyancing negligence claim work?
Our team of legal advisors are here to help you determine if you can claim damages. With us, all initial consultations are free – with zero obligation to pursue a claim. Please complete our the enquiry form or call 0800 234 3234 and let one of our team call you back.
If you decide to proceed with your professional negligence claim against your conveyancer, it follows a set process that is laid out in the Pre-Action Protocol for Professional Negligence. The broad steps that any conveyancing negligence claim goes through are:
Learning what went wrong and how it happened, reviewing the paperwork that you provide, and the conveyancer's file, to identify where the negligence occurred
Collecting detailed statements, expert opinion and evidence in relation to your case
Sending the insurers of the individual or firm in question an official letter of claim
The next step(s) can depend on how willing the other party is to accept fault. If the insurers do so, a settlement can be reached at this point. If not, we may seek mediation to settle your claim – otherwise court proceedings will be needed as a last resort.
How much compensation could you claim?
There is no set amount to how much compensation you could receive if your claim is a success. It will come down to the unique circumstances of your conveyancing negligence case – and the extent of your losses.
It can be based on factors including any costs you incur to fix defects or resolve problems or the amount you overpaid or undersold by on a property deal. In all cases, however, our aim is to ensure you receive the maximum amount of compensation possible.
How can you fund your conveyancing negligence claim?
Should you decide to make a claim, we can usually offer to take on your claim on a 'No Win No Fee' basis. This is also known as a Conditional Fee Agreement (CFA).
If your conveyancing negligence claim is successful, we will take a pre-agreed fee as payment. This is called a 'success fee' and is a percentage of the eventual settlement agreed with you at the start. And we aim to beat any offer you may receive.
If we are not successful, you will have nothing to pay. This ensures that you can seek what you are owed without any financial risk to yourself.
How long do you have to make a claim?
Time is of the essence with any claim for compensation. Strict time limits apply, which start from the date of the conveyancing negligence – or the date you are first aware of damage caused.
In most cases, you must lodge a claim with the court within six years of the negligence, but in some circumstances you may have three years from when you became aware of the problem. But we also know this is not always clear cut in some instances. If you are not sure, however, we can help.
Here to help you
Get in touch with our team to discover how we can help with your conveyancing negligence case. You can phone 0800 234 3234 or contact us and one of our expert team will call you back.