Cosmetic Surgery Compensation Claims
Rhinoplasty (Nose Reconstruction) Compensation Claims
Rhinoplasty surgery, more commonly known as a 'nose job', is one of the most popular cosmetic surgeries in the UK but things can and do go wrong. When mistakes are made during nose reconstruction surgery and you suffer an injury and avoidable complications we're here to help you.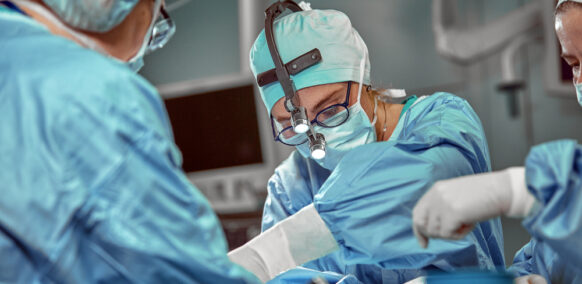 What is a rhinoplasty?
Rhinoplasty surgery is a common procedure used for correcting and/or reconstructing the shape, functions, and appearance of your nose.
Most people choose to undergo a rhinoplasty for cosmetic reasons to improve the appearance of their nose, or they are medically advised for psychological or health reasons.
There are several methods used when performing this type of surgery, depending on the desired outcome and the skill and training of the Surgeon. However, from time-to-time errors can occur and the surgery can lead to more, avoidable, problems.
Your Surgeon should have explained the risks and potential complications associated with nose reconstruction surgery before you decided to proceed. If they did not, they might have been negligent if you then went on to suffer an injury.
What is a rhinoplasty negligence claim?
Rhinoplasty negligence claims are brought against surgeons or other medical practitioners involved in the procedure and subsequent patient aftercare. If you feel that errors were made during your care that resulted in a physical injury together with psychological consequences you may have a claim for compensation.
A rhinoplasty negligence claim may be required for a number of circumstances. These include, but are not limited to:
Excessive bruising — post surgery
Breathing difficulties
Failed surgery (poor surgical technique)
Nerve damage — leading to cognitive dysfunction and other complications
Damage to nasal muscles
Damage to septum (the structure which divides the nose in two)
Alar base and tip of nose assymetry
If you feel that you or a loved one has suffered any of the above as a result of a negligent rhinoplasty, get in touch with our team at Been Let Down.
Why make a rhinoplasty negligence claim?
Any form of surgery comes with risks but it's the responsibility of your surgeon to explain the potential complications associated with your rhinoplasty before you proceed and ensure that they carry out the procedure to the expected standard. If they did not, they may have been negligent if you then went on to suffer an injury.
In order to prove a clinical negligence claim, we have to prove:
Breach of Duty — The healthcare professional treated you in a way that no responsible healthcare professional in the same field would treat a patient.
AND
Causation— Proving that the harm done to you is a direct result of the negligent action, and it wouldn't have otherwise occurred. This is assessed on the balance of probability, so there must be at least a 50% chance that the medical practitioner caused the damage.
If we are able to prove both elements we will secure compensation for any injuries you have suffered and include a claim for any financial losses you may have incurred, such as loss of earnings or the costs of any additional treatment you may have needed.
Rhinoplasty negligence claims rely on medical evidence of any injuries or conditions you've sustained from the negligent procedure. That's why it's essential that you contact legal experts who have experience in medical negligence claims. Our skilled team will ensure you undergo a thorough medical assessment and collect all the necessary evidence that will support your case.
To find out more about medical negligence, take a look at our detailed guide that gives key information about what you need to know to make a successful claim.
Why choose Been Let Down for your rhinoplasty negligence claim?
At Been Let Down, we're experts in medical and professional negligence law and have over 15 years' experience supporting a variety of clients across England and Wales. We're also fully regulated by the Solicitors Regulation Authority so you can be assured that we're committed to our clients and will always act with your best interests at heart.
Some of our solicitors have been recognised by the Law Society and Chambers and Partners, and are recommended for their excellence in medical negligence claims. When it comes to your rhinoplasty claim, you can trust us to do everything we can to get the best outcomes for our clients. We feel so strongly about this that our cases are No Win No Fee – so, if your claim is not successful, you won't be charged a fee.
You'll have an experienced medical and professional negligence solicitor with you every step of your claim. You'll also receive an initial, no-obligation consultation that will help us get the details of your case together.
Rhinoplasty medical negligence FAQs
How much compensation could I receive for rhinoplasty negligence?
Most cases of nose reconstruction surgery are cosmetic and pursued through private healthcare but there are rhinoplasties that are medically advised and performed on the NHS. In either case, patients may be entitled to compensation when things go wrong. If your case is successful, the compensation you receive will reflect the injuries sustained and any difference your surgery has made to your quality of life. We look to secure the best possible award for physical and psychological injuries together with any associated financial losses, such as lost earnings or the cost of additional treatment. Every case is different and carefully assessed by our expert team.
How long do I have to bring my rhinoplasty negligence case forward?
As is the case with most other medical negligence cases, you usually have three years to issue a Claim Form with the Court. This can be three years from the date you were injured or the date you realised you suffered any complications.
There are exceptions to this three-year limit if the claimant is under 18, has diminished mental capacity, or has passed away.
What happens if I'm not happy with my rhinoplasty?
Rhinoplasty negligence can result in life-threatening infection, nostril collapse, and breathing problems. If this is the case for you or anyone you know, you can get help.
If you're not happy with the results of your rhinoplasty due to medical negligence get in touch today. You should also seek medical advice if you require additional care after your surgery.
What are the chances of a botched rhinoplasty?
While you might have heard many horror stories about botched nose reconstruction surgeries, rhinoplasty failure only occurs in 5 to 10 percent of cases.
If you happen to fall into this small category, we're here to help. While we can't repair the physical damage, our skilled legal team here at Been Let Down will work tirelessly to ensure you receive the compensation you deserve.
Why does a botched rhinoplasty occur?
A rhinoplasty can be 'botched' for a number of reasons:
The medical team is inexperienced
The patient doesn't receive adequate after-care
The patient is not made aware of any potential risks of having the surgery
The above cases could mean that you are entitled to compensation. Contact our expert team today and we'll start working on your claim.
We're here to help
If you consider that you have been let down and suffered injury due to a negligent nose reconstruction surgery, you may have a rhinoplasty claim.
Start your rhinoplasty negligence claim by getting in touch with us today and finding out how we can help you secure the compensation you deserve.
Please call us on 0800 234 3234, use our online form or request a call back.