Medical Negligence Solicitors
Medical Misdiagnosis Compensation Claims
If your illness or injury has worsened after a medical diagnosis or you feel you have been misdiagnosed, we are here for you.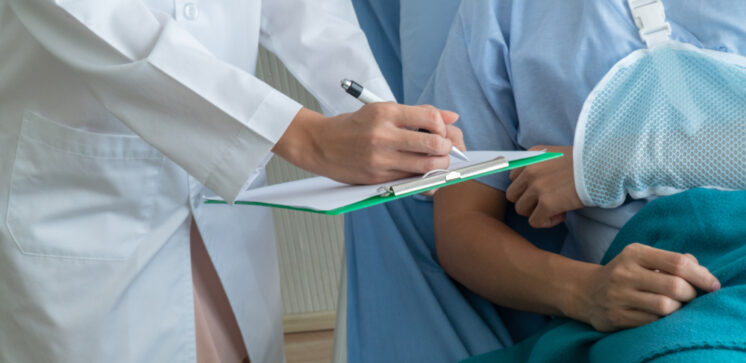 Compensation For Medical Misdiagnosis
When you head to the hospital or your local GP practice with a problem, the last thing you expect is to be misdiagnosed. Suffering from a misdiagnosis in the context of medical negligence is a common problem faced by patients of medical practitioners around the UK.
Medical misdiagnosis often occurs when a hospital or health worker fails to investigate or examine symptoms correctly resulting in an incorrect diagnosis and a failure to provide appropriate and timely treatment.  In other words, the medical professional gets the diagnosis of a condition wrong. It can also occur when a medical practitioner fails to diagnose a medical condition completely, leading to unnecessary suffering and pain.
These can all lead to lack of treatment, incorrect medication being dispensed and/or unnecessary surgery, all of which can worsen the extent and the impact of any illness or injury.
If a medical practitioner misdiagnoses a condition or fails to diagnose completely, it can have a long-lasting effect on a patient's health. At Been Let Down, we can help you pursue a medical misdiagnosis claim and achieve the outcome you are looking for.
What types of medical misdiagnosis claim are there?
When considering a medical misdiagnosis claim, it's important to know that this area of negligence covers a large range of different medical issues. It may leave you in a position where you lose trust in the medical doctors treating you, and in many cases feeling like you have nowhere to turn.
If this is the case, you should contact a trusted misdiagnosis solicitor from Been Let Down, who can advise you on your legal options, guide you on misdiagnosis claims, and in many cases support you with finding additional medical care.
The most common types of misdiagnosis that can qualify for a medical misdiagnosis claim, include situations such as:
Doctors failing to investigate symptoms leading to unnecessary suffering, even allowing the condition to become terminal in some cases
Doctors failing to refer patients for further investigations or for specialist review
Misreporting and making errors when reviewing diagnostic scans, biopsies and smear tests
Doctors failing to identify and/or diagnose fractures and other musculoskeletal injuries
Misreading and/or failing to identify abnormalities in test results leading to inaccurate advice and inappropriate treatment given by a GP, Surgeon or other medical professional
Which medical conditions could be misdiagnosed?
Unfortunately, there are a number of conditions that can be misdiagnosed by health professionals. Failing to diagnose any injury or illness can result in further complications such as an impact on mental health, deterioration of physical health and even death.
We've listed some of the conditions that can lead to serious complications if not diagnosed at the earliest opportunity:
Appendicitis – This needs to be treated as a matter of urgency with surgery to remove the appendix. If your appendix ruptures or bursts, it can lead to life-threatening infections, abscesses or blood poisoning. If you've reported pain in your lower right abdomen with other symptoms like a high temperature, vomiting and diarrhoea but a health professional has failed to act quickly, you could be eligible to make a medical misdiagnosis claim.
Ectopic pregnancy – This occurs when a fertilised egg implants itself outside the womb in one of the fallopian tubes. As the embryo grows it can stretch the tube, causing it eventually to rupture. When these types of claims are made, it's usually for the pain and suffering caused by the delay in diagnosis. If you've experienced a delay, contact our team today.
Meningitis – This life-threatening condition must be treated as a medical emergency. Failure to do so could be critical. The symptoms to look out for are a combination of a fever, non-blanching rash, vomiting, neck pain, drowsiness and convulsions. If a medical professional has missed your or a loved one's symptoms, get in touch to see if you can make a claim.
Cancer – Possibly one of the most commonly misdiagnosed diseases. Because cancer can present with symptoms similar to other, less serious, illnesses it can unfortunately be missed by health professionals. Caused by abnormal cells in the body that begin to divide uncontrollably, this build-up may form a malignant tumour and the cells may also spread to other parts of the body. A delay or failure in diagnosis can harm your chances of fighting the condition. Our experienced team will be able to talk you through your cancer misdiagnosis claim options.
How do I find an expert medical misdiagnosis solicitor?
Suffering any of these misdiagnosis issues mentioned (and many more) may qualify you to make a medical misdiagnosis claim, whether against your GP, an NHS hospital or a private medical facility.
Misdiagnosis claims can take into account any pain and/or injury caused or worsened by the medical misdiagnosis suffered, as well as factoring in any other financial impacts such as loss of earnings and/or ongoing medical care.
If you feel as though you have been let down and have suffered injury and emotional distress as a result of a failed or inaccurate diagnosis of a condition, talk to us and we will listen to you to find out if you have a claim.
At Been Let Down, our team of solicitors are ideally equipped to help you explore all of your legal options. Via a free and no-obligation initial consultation, we can provide you with the expert legal insight of our team.
If we take on your legal representation, we can help with factors such as evidence gathering, and we'll keep you informed at every stage of your claim process so that you know exactly where you stand. Thanks to our wealth of experience in Medical Negligence in courts across the country, we're the leading option for those who are considering a claim.
Why trust Been Let Down with your misdiagnosis claim?
If you're looking for impartial advice about medical misdiagnosis claims, here's why you should come to us:
Authorised and regulated legal practice
We are authorised and regulated by the Solicitors Regulation Authority (SRA). The SRA set the professional standards that solicitors need to adhere to in England and Wales.
We have specialist knowledge gained across a wide spectrum of medical misdiagnosis claims.
You'll be supported by a qualified solicitor from day one, with our legal experts able to advise you on whether or not you have good grounds for a successful medical misdiagnosis claim.
Many of our cases are No Win No Fee
Once we've assessed your claim and decided that you could have a successful case, we will consider various methods to fund your claim.  The majority of our cases are taken on a 'No Win No Fee' basis  through what's called a Conditional Fee Agreement. This simply means that if we're not successful in pursuing your claim, there will be no charge, unless the claim is deemed to be fraudulent, or you have failed to comply with our reasonable requests to pursue your claim. Should we win your claim, we'll take some of our fee from your compensation. This is simply a percentage of the compensation you're awarded and we'll agree this with you beforehand.
Contact us today
To find out more about our range of legal services surrounding a medical misdiagnosis, you can get in touch with our team at Been Let Down today on 0800 234 3234, or by completing the online claims form in our contact section.
Our friendly team will listen to you to answer any questions you may have and arrange your free consultation so that you know exactly where you stand.