Cosmetic Surgery Compensation Claims
Eyelid Surgery (Blepharoplasty) Compensation Claims
Surgical standards are generally extremely high when it comes to eyelid surgery and most patients are happy with the results. Sometimes, however, things go wrong. Our solicitors at Been Let Down are here to help when it comes to your eyelid surgery claims.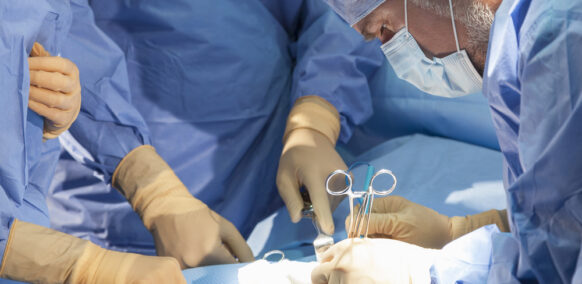 What is a blepharoplasty?
Eyelid surgery is undertaken to correct defects, deformities, disfiguration and excessive fat or skin of the eyelids.
The main goal of this type of surgery is to restore and correct the functioning of the eyelid and there are two different types:
Upper eyelid surgery involves making an incision along the crease of the eye and removing excess skin, fat, or muscle. The incision is then closed, and the scar will be hidden in the natural fold of the eyelid.
Surgery for the lower eyelid generally involves cutting the lower eyelashes or the inside of the lower eyelid. The fat and skin from the bags under the eyes are repositioned or removed, and the muscle and tendons are supported, if necessary, before the incision is closed.
Suture strips are typically applied by the surgeon after the procedure and removed up to a week later.
When can I make an eyelid surgery compensation claim?
Given the proximity to your eye, this surgery is complex in nature so the skill applied should be exemplary. However, you may have been the victim of substandard surgery and have suffered complications after the procedure as a result.
Eyelid surgery compensation claims may be necessary for a number of reasons. These include but are not limited to:
The removal of too much skin, resulting in complications in closing the eyes
Damage to the eye — blurred vision and even blindness
Asymmetrical-looking eyes caused by poor surgical technique
Damage to surrounding areas and noticeable scarring
Infection and other complications post-surgery
Bleeding from the eye socket
If you have been let down and suffered a physical injury together with psychological consequences as a result of negligent eyelid surgery you may have a claim for compensation.
Get in touch with our team of solicitors today if you feel like your eyelid surgery has gone wrong and we can discuss your options.
Why make an eyelid surgery claim?
Any form of surgery comes with risks but it's the responsibility of your surgeon to explain the potential complications associated with your blepharoplasty before you proceed and ensure that they carry out the procedure to the expected standard. If they did not, they may have been negligent if you then went on to suffer an injury.
In order to prove a clinical negligence claim, we have to prove:
Breach of Duty — The healthcare professional treated you in a way that no responsible healthcare professional in the same field would treat a patient.
AND
Causation— Proving that the harm done to you is a direct result of the negligent action, and it wouldn't have otherwise occurred. This is assessed on the balance of probability, so there must be at least a 50% chance that the medical practitioner caused the damage.
If we are able to prove both elements we will secure compensation for any injuries you have suffered and include a claim for any financial losses you may have incurred, such as loss of earnings or the costs of any additional treatment you may have needed.
Eyelid surgery claims rely on evidence to prove that negligence has taken place, which is why it's so important to receive legal advice as quickly as possible. Our expert team will ensure that you undergo a medical assessment and collect all the necessary evidence that will support your case.
Why choose Been Let Down for your eyelid surgery claim?
At Been Let Down, we understand that eyelid surgery negligence can be traumatising and dramatically impact your quality of life, but you don't have to deal with it by yourself. Our SRA-accredited team of solicitors is fully committed to working towards a positive outcome for your case and getting the compensation you deserve.
We have over 15 years of experience in clinical negligence law and have represented hundreds of claimants across England and Wales. Some of solicitors have been recognised as experts in medical negligence by The Law Society, Chambers and Partners and The Legal 500 so you can be rest assured that you will receive the best legal advice and representation.
We feel strongly about acting with your best interests at heart, so much so, that all our cases are No Win No Fee. This means that you won't be charged legal fees if your claim is not successful.
When you put forward an eyelid surgery compensation claim with us, there will be an experienced medical negligence lawyer fighting your corner every step of the way. You will also receive an initial no-obligation consultation that will help us get together the details of your eyelid surgery claim.
We're here to help
You do not need to handle the aftermath of a negligent blepharoplasty alone. Get in touch today and find out how we can help with your claim for eyelid surgery.
Please call us at 0800 234 3234 or contact us and a member of our legal team will call you back.
Eyelid surgery claim FAQs
Can you get blepharoplasty surgery on the NHS?
It is possible to get blepharoplasty surgery on the NHS if it is not just for cosmetic reasons and providing patients meet the strict criteria. For example, if the excess skin is affecting your vision or making it difficult to open your eyes then you may qualify for surgery on the NHS. It is rare that you will receive a lower eyelid blepharoplasty on the NHS as eye bags and extra skin on the lower lids rarely block vision.
How much does eyelid surgery cost in the UK?
In the UK, blepharoplasty surgery can cost between £2,000 and £6,000. This doesn't include the cost of consultations, further surgery or any follow-up care that you may need.
How long does it take to recover from eyelid surgery?
Recovery from blepharoplasty surgery can typically take between 7 and 14 days, although it may take several weeks for bruises, surgical wound, and redness to fade. You won't be able to drive after the operation and it's advisable to take time off work at this time.
This recovery period can be extended if you're not taking the necessary post-op precautions.
The medical professional involved in your treatment should have notified you about the proper aftercare and activities you should avoid. If your doctor or care team failed to do this, get in touch to see whether there is a potential clinical negligence claim.
How common are blepharoplasty complications?
All surgery has risks but fortunately, blepharoplasty complications are rare. When they do occur, they are typically mild and easily treated such as dry eyes and irritation.
However, there are instances where complications can be severe such as blindness or need surgical correction, like ectropion.
If you developed a complication from eyelid surgery and believe it is a result of medical negligence, you may be able to make a claim.
Is eyelid surgery high-risk?
Blepharoplasty surgery is one of the most common cosmetic procedures in the UK so most doctors consider it to be safe. However, there are risks involved as there are with any surgery.
The majority of patients temporarily experience common symptoms such as numb eyelids, redness, and irritation. More serious conditions like muscle injury, vision loss, and eyelid retraction can happen in rare cases.
Given the life changing consequences it is important that the care you receive during this procedure is exemplary.
Here to help you
Get in touch today and find out how we can help with your case for eyelid surgery compensation.
Please call us on 0800 234 3234 or contact us and a member of our legal team will call you back.