Negligence Claims against Property Professionals
Septic Tank Solicitor Negligence Claims
When you instruct a conveyancing solicitor you expect them to perform their duties with care and competence. If the advice you have received relating to your septic tank was negligent and this has resulted in financial loss we can help you take action.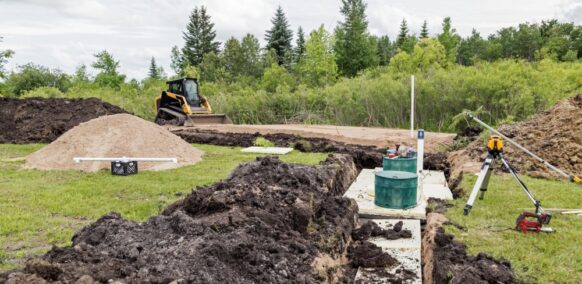 Septic Tank Claims Against Solicitors
On 1 January 2015, new regulations came into force that banned the way septic tanks discharged waste and stated rules that enforced how septic tanks can be made compliant. The deadline for homeowners to upgrade their septic tanks to ensure compliance was 1 January 2020.
If you bought a property after 1 January 2015 in England or Wales that was serviced by a septic tank and you have since incurred a fine or unexpected servicing costs, you may have suffered from negligent advice from a conveyancing solicitor. As specialists in professional negligence claims, Been Let Down can help you make a claim for conveyancing negligence.
What are the new septic tank regulations In England and Wales?
It is estimated that there are over 500,000 homes with septic tanks in the UK. A septic tank is essentially an underground tank that is used when a property is not connected to the main sewage treatment works.
The new regulations stated that any property in England or Wales with a septic tank which discharges to a watercourse must have it replaced or upgraded by 1 January 2020.
Septic tanks can be made compliant with the regulations by either connecting it to a public sewer, replacing it with a small sewage treatment plant, installing a drainage field or applying for a permit to allow discharge to surface water.
If a homeowner has a septic tank that does not comply with the new regulations after 1 January 2020, they must upgrade or replace it. This can cost anything between £10,000 and £50,000 depending on the location of the septic tank, and the work involved.
If a septic tank is not upgraded and found not in compliance with the new regulations, a homeowner could face a fine up to £100,000 from the Environment Agency and up to 3 months in prison.
What is a septic tank solicitor negligence claim?
The new rules required homeowners to take action to ensure that their septic tanks meet the regulatory requirements.
Many homeowners have moved into their dream home only to discover that the solicitors they appointed to complete the purchase have failed to inform them that the septic tank did not comply with the new regulations. This is an example of conveyancing negligence.
The Environment Agency issued their "General Binding Rules" for small sewage discharge to a surface water in 2015. The guidance states:
"If you buy or sell a property with a septic tank that discharges directly into a watercourse you should agree with the buyer or seller who will be responsible for replacing or upgrading the treatment system. You should agree this as a condition of sale."
The guidance to any party involved in the sale or purchase of a property with a septic is clear – it is a condition of the sale that all parties (buyer or seller) understand who is responsible for ensuring the septic tank meets the regulatory requirement.
If a conveyancing solicitor has failed in their duty of care to the buyer they represent by not documenting that they (the buyer) are responsible for the replacing or upgrading of the septic tank, this is an example of conveyancing negligence.
What you should do if you think you may have a claim?
We are experts in conveyancing negligence and have the necessary experience in this very specific area of law. You may have experienced a similar incident that many of the clients we represent have. They have bought a property with a septic tank and when they have had it serviced for the first time, the waste management professional has informed them that their tank does not comply with the current regulations. When they have complained to their former conveyancing solicitor, the complaint has been unsuccessful or not even responded to.
If the above is your experience, you may have a claim for compensation. Contact us today and a member of our expert legal team will listen to you and advise you of the next steps.
Here to help you
Get in touch by calling us on 0800 234 3234 or contact us and a member of our legal team will call you back.