Medical Negligence
A&E at breaking point — Colchester Hospital
Colchester general hospital declared a 'major incident'.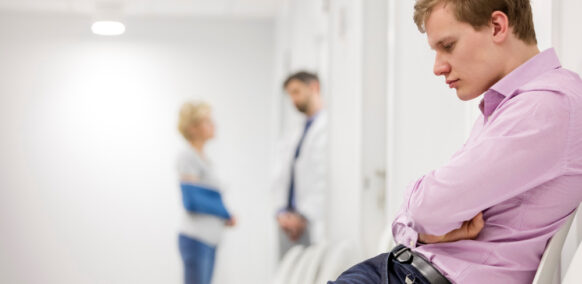 Major incident declared by Colchester general hospital
On the 15 November 2014 the interim executive board of the Colchester general hospital declared a 'major incident' following an inspection by the Care Quality Commission (CQC).
The Hospital is keeping what it means by 'major incident' to itself for the time being. Its uncertain whether it was linked to the inspection by the CQC. However what is clear is that the CQC raised 'a small number of safeguarding concerns' following an inspection on Wednesday 12 November 2014.
The NHS defines a major incident as: 'Any occurrence that presents serious threat to the health of the community, disruption to the service or causes (or likely cause) such numbers or types of casualties as to require special arrangements to be implemented by hospitals, ambulance trusts or primary care organisations'.
Dr Lucy Moore interim chief executive of the Colchester Hospital said that the focus was on 'discharging patients'. Patients were urged to only attend the Colchester Hospital's A&E department if it was absolutely necessary.
We are waiting for further announcements from the interim board of the Colchester hospital as to what steps will be taken and for them to clarify what they mean by a 'major incident'. The intervention by local MP, Sir Bob Russell who has outlined that he would be taking the matter up with the health secretary Jeremy Hunt, adds further pressure to the hospital to come clean with its problems.
The failure of the Colchester Hospital's accident and emergency's department also seems to coincide with the health secretary Jeremy Hunt also saying on Friday 14 November 2014 'It is not sustainable in the long run to say that all the extra pressure in the NHS has to be borne by A&E departments'.
Furthermore the NHS England managing director, Sir Bruce Keogh suggested that A&E patients should visit the pharmacy rather than attend A&E. It is clear that the government realises that A&E departments across England will be under immense pressure during this winter period.
The College of Emergency Medicine's president Dr Clifford Mann was fighting back regarding the pressures of A&E departments when he told BBC Radio 4's Today programme 'I rather suspect there are many hospitals with very similar pressures [to Colchester hospital] and I think the major incident is simply the most appropriate term for the hospital to draft in emergency supplies, if you like, of extra staff', he added that the government/NHS…. 'have to stop doing … short term funding fixes' .
He was suggesting the Colchester Hospital is likely to be the first A&E department of many to buckle under the increased demands and pressure this coming winter.
Demand for A&E services and number of A&E claims on the increase
Here at Been Let Down we are seeing an increasing trend of medical negligence claims resulting from Doctors and triage staff failing to diagnose injuries and conditions in A&E. With the increased demands on services it is likely that this trend will increase.
Contact us today
If you have been injured, suffered complication and unnecessary suffering or been misdiagnosed as a result of an A&E attendance, contact us for a FREE no obligation consultation.
Please call us on 0800 234 3234 or contact us and a member of our legal team will call you back.