Professional Negligence
Can I sue my Solicitor?
When your Solicitor has been negligent and they have caused you to suffer loss or damage, it's natural to want to make a complaint. But can you make a claim for Compensation? The answer is yes.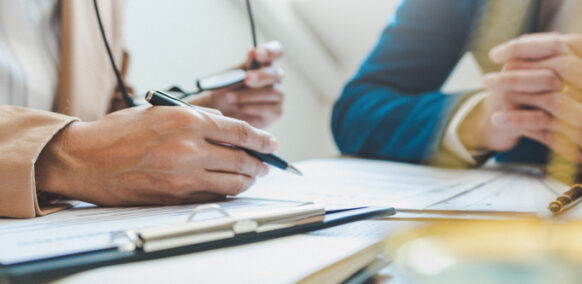 Can I make a claim against a Solicitor?
Even professionals with experience can make mistakes for whatever reason and if this results in financial loss or a loss of chance, you may have the right to claim. All solicitors and barristers have a duty to carry Professional Indemnity insurance and this means that if you can prove that there has been a breach of duty and that breach has caused you a loss, you may receive damages.
It can seem quite intimidating to try to sue a solicitor or barrister who is well-versed in law, but there are many situations in which you are owed a job well done. Solicitors and barristers have a professional duty of care to you to ensure that minimum standards are kept to. The very existence of professional indemnity insurance for legal professionals demonstrates that they can get it wrong.
If you were given any professional advice which was wrong, or your solicitor failed to adhere court directions/ time limits, a professional negligence Solicitor will be able to help you.
There is a technical difference between professional negligence and an inadequate/poor service levels, although the latter can easily turn into the former. Delays due to your solicitor would classify as inadequate service, and you may be best contacting the Legal Ombudsman to investigate your claim if this is the case. If the delays went on so long that a time limit was missed, it would then fall under the category of negligence.
Negligence or inadequate service could include:
– Suing the wrong party
– Failing to serve notice on time
– Failure to draft a Will properly
– Missing a court date
– Negligence relating to a conveyancing transaction
– Causing your claim to be stuck out at Court
– Undersetting a personal injury claim or missing losses on your behalf
There are many other examples for negligence and the above is just of few of the common ones which we come across frequently.
If you consider that your solicitor has been negligent you should speak to a Professional Negligence Solicitor, who will be able to give you some initial advice on whether you have a case. If you have a case then the professional negligence solicitor will make a request to the negligent solicitor for your file of papers, so the file can be reviewed. You could also make a complaint to the negligent solicitor but we would urge you to contact us before you put pen to paper.
In some professional negligence claims the process calls for expert evidence to be obtained and used in support of the claim. In cases involving suing a solicitor this generally won't be necessary as the Judge will themselves be a barrister or solicitor and therefore should have the sufficient knowledge of the issues in question. Only in exceptional circumstances will expert opinion be required.
In order to take a solicitor or barrister to court for negligence you will need a specialist professional negligence solicitor, a solicitor with a good all-round knowledge of the issues.
If you have been given substandard advice or lost out on time or money due to inadequacy and negligence on the part of your solicitor, you should seriously consider taking action against them in order to get what you deserve.
Role of the Legal Ombudsman
Poor customer service levels and lack of communication can often be considered as negligence. Generally this is not negligence, although in some circumstances it could be. If you are unsure please contact us. If your case is ongoing and you are concerned about the way in which it is being handled you can choose to approach the Legal Ombudsman who will investigate your allegations and contact your solicitor. After the investigation they may be able to directly award you compensation, but their powers to award compensation are very limited so you should contact us if you think you have a claim in negligence. You can find the details to contact the Legal Ombudsman here.
Contact us today
Our experts are on hand to help you get the compensation you deserve. If you're searching for advice about how to start a solicitor negligence claim, get in touch now and find out how we can help with your case.
Please call us on 0800 234 3234 or contact us and a member of our legal team will call you back.