Professional Negligence
Solicitors' Negligence Claims – A Brief Guide
It can be difficult to understand when a solicitor has been negligent, that is why we have put together this brief guide to help you understand how to make the best decisions for your situation.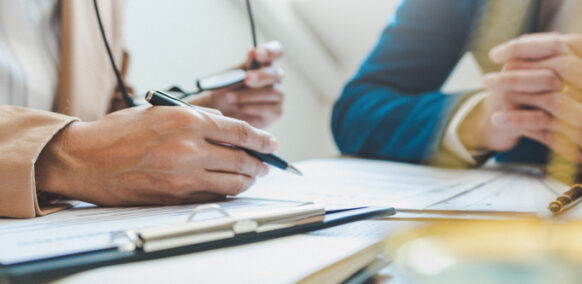 A brief guide to making a solicitor negligence claim
Most people, during their lives, require the services of a solicitor. Whether it be for the drafting of a Will, a matrimonial/family matter, business related matters, ratifying contracts, a personal injury claim, conveyancing etc, we will all, on occasion, need to rely on the professionalism, knowledge and expertise of these highly trained legal advisors. In the UK, the legal profession is regulated by the Solicitors Regulation Authority (SRA), whose job it is to ensure that solicitors uphold their duties in accordance with the Solicitors Code of Conduct. Solicitors have a duty of care to act in the best interests of their clients.
However, as with all areas of life, there will be times when the service or advice provided by a legal professional falls below what would reasonably be expected, and a client may suffer damage, or sustains a loss as a direct result. It may be that deadlines were missed, administrative errors were made or incorrect/out of date advice was given.
When these types of mistakes occur, they can result in clients losing substantial sums of money, a loss of chance, wastage of time and untold stress and emotional strain, not to mention wasted legal costs. If you think that you have experienced the kind of situation described above, then you may need to consider making a professional negligence claim against your solicitor.
Been Let Down – Professional Negligence Solicitors is a trading style of national law firm Bond Turner Solicitors. We are a law firm which specialises in cases of solicitors' professional negligence; we will be able to help determine whether you have grounds for a valid claim of solicitor negligence. Furthermore you may be surprised to learn that we will be prepared to represent you on a 'No Win No Fee' basis, meaning peace of mind and freedom from financial risk for you, the client.
Examples of possible grounds for solicitor negligence:
Missed Limitation dates – These are time limits during which legal proceedings must be commenced.
Mistakes or errors in drafting a will.
Bad advice on the title or ownership of a property or properties.
Failing to advise on whether or not a commercial lease is a secure tenancy (this is important as it can provide protection from eviction).
Failure to advise about planning permissions or building regulations.
Under-settling a Personal Injury Claim and associated losses, or missing out important losses on your behalf.
Failure to comply with Court directions and/or having your claim struck out.
Failure to secure the witnesses needed to support your civil or criminal claim.
Failure to act in a proper manner leading to you having to pay solicitors costs or other disbursements or Court fees. This could result in a CCJ against you or Bailiffs attending your property.
Suing the wrong party — owing to the extremely complicated nature of many legal proceedings this is actually much more commonplace than you might expect.
These are just a few examples of the more common errors of solicitor negligence which we come across, but of course this is by no means a comprehensive list. If you have any reason at all to think that you may have not received the level of service you should have from a solicitor, and you think mistakes have been made, you should seek advice from a professional straight away.
Funding
When thinking of pursuing a solicitors' negligence claim one of the main concerns that people have is funding, who is going to pay for the legal fees. You may be pleased to hear that if we deem your claim to have a reasonable prospect of success, normally that means that we think that there's at least a 51% chance of your claim being successful, we will offer our services on a No Win No Fee basis. However we must advise you that we may only be able to assess the prospects of your claim once we have received and reviewed your previous solicitor's file to determine that negligence has actually occurred. We would then advise you and look to pursue your claim on a No Win No Fee basis.
A Conditional Fee Agreements (CFA) is another word for a No Win No Fee agreement. Under a CFA a solicitor will take on your claim, and if they are not successful in winning your case, you won't be charged a penny. In the event that they win your claim, and compensation is awarded, our solicitors will recover your legal costs from the negligent party's insurers. This means that you can safely pursue your claim in the knowledge that you will not be left with a hefty legal bill to pay if you are unsuccessful. And of course a solicitor is only likely to take on your claim in the first place if they can see it has a reasonable/to good chance of success.
Specialists in professional and solicitor negligence
Been Let Down are established, specialist solicitors in the area of solicitor negligence claims. Contact us either through our website or our Freephone number and we'll take down the details of your  claim and let you know whether you have a claim which we are able to investigate on a No Win No Fee basis.  All initial enquiries are free of charge and at no obligation for you to proceed.
Contact us today
Get in touch and find out how we can help with your case for compensation for solicitor negligence.
Please call us on 0800 234 3234 or contact us and a member of our legal team will call you back.