Professional Negligence
Wills and Probate – Solicitors Negligence Claims
When drafting a Will or dealing with Probate, it is essential that things are done correctly, thoroughly and professionally.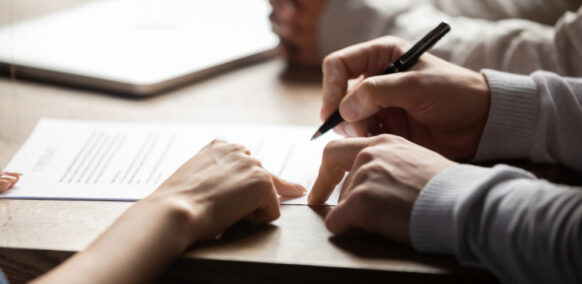 How can a will or probate be mishandled?
Solicitors and Probate lawyers have a duty of care to deal with Wills, Trusts and Estates in a competent manner. This can be a sensitive area of law and sometimes emotions run high when dealing with family Wills and Probate related matters. It is therefore important that clients receive calm, thorough advice that best serves their individual needs.
There are many things that a solicitor/lawyer might be asked to deal with, including the distribution of estates and looking at ways of cutting down on the amount of inheritance tax to be paid.  Additionally, they could be asked to put in place a Power of Attorney so that if a client becomes incapacitated for any reason, legal dealings will be less complex and further costs kept under control. Upon death, it may be their duty to deal with and distribute assets.
All of these things sound quite straightforward, but unfortunately, mistakes and errors can creep in which may result in a claim in negligence.
Some examples are this are:
A Will might be drawn without the solicitor realising that the client is suffering from dementia or some similar illness which makes them not of sound mind.
Alternatively, the Will may not be written correctly or the Will might not be signed and executed as it should be potentially rendering it invalid.
The deceased's wishes may not have been properly recorded or taken into account when the Will has been drafted leading to disappointed beneficiaries (people who would/should have benefited from the Will but didn't).
Inheritance tax may not have been correctly calculated or even taken into account.
How to go forward
If you have been involved in dealing with a Will or Probate and you feel that dealings were not dealt with correctly or professionally, you may be able to make a claim in negligence.  The first thing to do is to contact a claims specialist who is used to dealing with these types of cases and who will understand the complexities of the matter.
If we consider you have a claim we will then need to obtain the file of papers from your solicitors or advisors. We will then need to carefully check everything out and advise you whether we can proceed with the claim on a 'No Win No Fee' basis.
Negligence has to be proven
The main gist of the procedure will be to prove that the standard of service provided by the solicitor fell below that of a reasonably competent solicitor and that the negligence caused you to sustain a loss either financially or in some other way i.e. losing a chance.
Disappointed Beneficiaries
We maybe also be able to assist you to pursue a claim against a solicitor if you are a disappointed beneficiary of an estate and as a result of negligent Will preparation and drafting you did not inherit what you were supposed to.
Funding and time limits
When thinking of pursuing a solicitors negligence claim one of the main concerns that people have is funding, who is going to pay for the legal fees. You may be pleased to hear that if we deem your claim to have a reasonable prospect of success, normally that means that we think that there's at least a 51% chance of your claim being successful we will offer our services on a No Win No Fee basis. However we must advise you that we may only be able to assess the prospects of your claim once we have received and reviewed your previous solicitor's file to determine that negligence has actually occurred. We would then explain to you and pursue your claim on a No Win No Fee basis.
A Conditional Fee Agreement (CFA) is another word for a No Win, No Fee agreement. Under a CFA a solicitor will take on your claim, and if they are not successful in achieving a settlement you won't be charged a penny. In the event that they win your claim and compensation is awarded, your solicitors will recover your legal costs from the negligent party's insurers. This means that you can safely pursue your claim in the knowledge that you will not be left with a hefty legal bill to pay.
As with all cases of negligence where compensation is concerned, you should get expert help as quickly as possible after the event has occurred.  This is because time limits do apply and the more time your Solicitor has to work on the case, the better your chances will be of receiving a positive outcome.
Specialists in professional and solicitor negligence
Been Let Down are established specialist solicitors in the area of solicitor negligence claims. Contact us, either through our website, or our Freephone number and we'll take down the details of your claim and let you know whether you have a claim which we are able to investigate on a No Win No Fee basis. All initial enquiries are free of charge and at no obligation for you to proceed.
Here to help you
Contact us today and we will help you get the compensation you deserve.
Please call us on 0800 234 3234 or contact us and a member of our legal team will call you back.