Medical Negligence
Research shows that ambulance response times continue to increase
Additional studies of NHS data conducted by Been Let Down have shown that there has been a continued increase in ambulance response times in England since September 2021.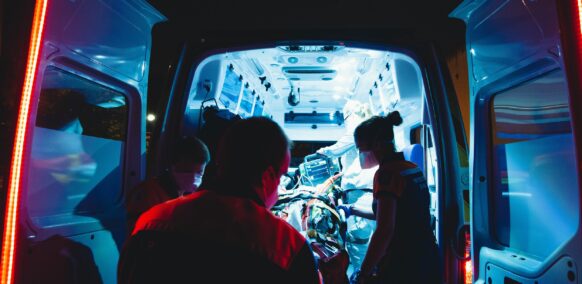 Been Let Down's recent analysis of the latest NHS England Ambulance Quality Indicator report reveals that the volume of 999 calls and ambulance waiting times have further increased since September 2021.
Spurred on by the Covid-19 crisis and with pressure continuing to mount on the NHS, our recent research would suggest that the situation continues to worsen across areas of England, particularly in the South West, where the average wait time for an ambulance stands at 2 hours and 5 minutes (up by 38% since September 2021).
Revisiting our earlier study on such delays, we've found that calls requesting an ambulance have also continued to rise by 38% since September, while the average response time for an ambulance has risen by 25% – from 1 hour and 17 minutes to 1 hour and 36 minutes. In some parts of the country, these figures are much higher.
Increasing volume of 999 calls
Our research found that regions where the number of 999 calls have increased the most since September 2021 include:
South East (up 62%)
East of England (up 45% MoM)
North East & Yorkshire (up 42%)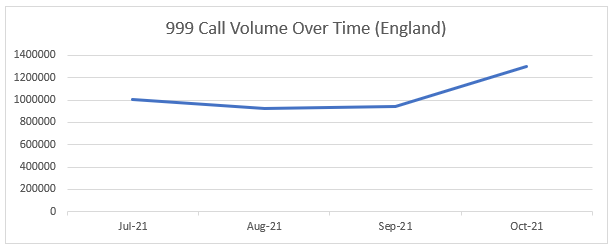 An increase in calls is adding pressure on to the NHS
The South West is the most affected area for Category 1 and Category 2 incidents as well – these are situations that require the most urgent attention.
The average waiting time for 'C1' incidents (classified as life-threatening and needing immediate intervention and/or resuscitation) here currently stands at 11 minutes and 48 seconds, more than three minutes over the NHS England response goal of eight minutes – this was the longest wait across the UK in September (11 minutes and 4 seconds) and has further increased by 7%. Overall, waiting times for 'C1' incidents have risen by 4% across England since last month, now reaching 00:09:20.
The South West is also currently facing the longest delays for 'C2' (emergency calls for high-priority conditions and injuries such as burns, epilepsy and strokes) requests as well, with response times now standing at 1 hour and 24 minutes, way above the 18 minutes goal.
Overall, Category 2 response times have risen by a staggering 151% in England, from 00:21:30 to 00:53:54.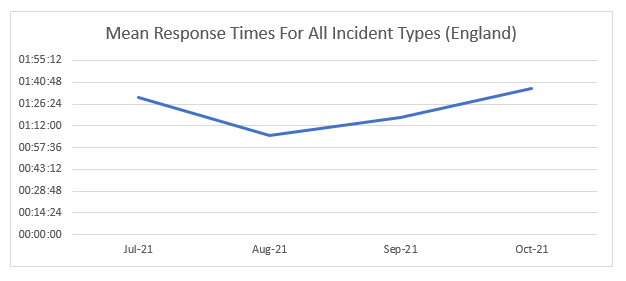 With a further rise in 999 calls, waiting times for 'Category 3' and 'Category 4'* incidents (which are deemed less urgent on the NHS priority list) have also increased significantly since September 2021. This is especially true for areas like the Midlands, where waiting times for non-threatening conditions have almost doubled.
Since September 2021, delays for 'C3' and 'C4' incidents in the Midlands have risen by 47% and 54% respectively, compared to the national average increases of 22% and 16%.
Our advice to those in need of ambulance services
With NHS services understandably stretched, providing as much information as possible when calling 999 can help ensure the incident is properly prioritised and an ambulance is dispatched promptly. Another important part of reducing waiting times and pressure on NHS teams is ensuring that everyone understands what constitutes an emergency and when to call for an ambulance. There is guidance on the NHS website about when to call 999.
With additional pressure on the ambulance service, unfortunately there may be cases whereby patients do not receive the treatment they should. With thousands of clinical negligence cases arising each year, although not all as a result of ambulance delays, at Been Let Down we believe that raising awareness of instances resulting in medical negligence is crucial to ensure better healthcare standards across services and facilities.
Here are just a few of the incidents that can result in a claim:
A diagnosis being incorrect or unduly delayed
Treatment not being adequate or suitable
Symptoms ignored
A medical device or item not functioning as it should
An operation or procedure being carried out incorrectly
Further advice for those in need of an ambulance service can be found on our previous insights article.
If you think you have been the victim of medical negligence and want to talk about the possibility of making a claim, you can make an enquiry online or get in touch with our expert team of clinical negligence solicitors.
For more information, visit our medical negligence webpage.
Our research methodology and sources: 
Ambulance response time data collected from NHS England Ambulance Quality Indicator: https://www.england.nhs.uk/statistics/statistical-work-areas/ambulance-quality-indicators/
Date Analysed: 19th November 2021 
Data Covers: Up until the end of October 2021
Mean time is featured in hours, minutes, and seconds (00.00.00)
NHS England Ambulance Response Goals from: https://www.england.nhs.uk/wp-content/uploads/2017/07/new-ambulance-standards-easy-read.pdf
NHS definitions for incident types:
C1: Calls from people with life-threatening illnesses or injuries such as cardiac arrest or serious allergic reaction (fastest response)
C1T: Calls from people with life-threatening illnesses or injuries such as cardiac arrest or serious allergic reaction where the patient was transported (fastest response) 
C2: Emergency calls for conditions and injuries such as burns, epilepsy and strokes (high priority)
C3: Urgent calls for conditions and injuries such as late stages of labour, non-severe burns, and diabetes. Transportation to A&E may not be required 
C4: Less urgent calls for conditions such as diarrhoea and vomiting and urine infections. Advice via phone / GP referral may be recommended over the phone. 
C1 / C1T = Most urgent, fastest response required 
C2 = Second most urgent 
C3 = Third most urgent
C4 = Least urgent
We're here to help with your NHS negligence claim
If you or someone you know has been affected by ambulance response times, get in contact with our team of specialist medical negligence solicitors. We are here to listen to you and provide you with the care and advice you need.
You can make an online enquiry, request a callback at a time that suits you, or call us on 0800 234 3234