Medical Negligence Solicitors
Medication Errors and Negligence Compensation Claims
When a healthcare professional issues the wrong medicine or the wrong dosage it could have severe and far-reaching consequences for the patient. If you or a member of your family has suffered harm as a result of a medication error you may be able to bring a claim for compensation due to medical negligence.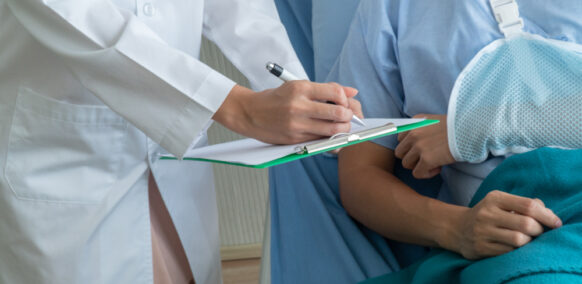 How do medication errors occur?
For any healthcare professional, handling medication carries a heavy burden of responsibility and great care must be taken to avoid medication errors from occurring. Therefore, there are several stages to dispensing medication that professionals must get right.
First, it is crucial that the right medicine is given. It also must be the right dosage, and it must be given to the correct person. If a medication error is made at any one of these stages, it has the potential to have severe and far-reaching consequences for the patient.
What is a medication error?
The National Patient Safety Agency, which is now part of the NHS Commissioning Board Special Health Authority, has defined a medication error as 'an error in the process of prescribing, dispensing, preparing, administering, monitoring or providing medicine advice, regardless of whether any harm occurred'.
How can I get help after a medication error has affected me?
A 2018 report into medical errors by the NHS in England was created by the UK Department of Health Policy Research Programme through its Policy Research Unit in Economic Evaluation of Health & Care Interventions. This revealed that an estimated 237 million medication errors occur in England annually. However, while this is a large number, it found that 72% have little or no potential for harm.
While not all medication errors have dramatic results, and there are instances where some may not even be detected, extremely serious effects can and do occur as a result of things being missed. Should you feel that a prescription or medication error has caused you harm, you may be able to bring a claim for compensation due to medical negligence. That's where Been Let Down may be able to help you.
We have a team of experienced medical negligence solicitors that understand how complex this type of case can be.
What are the different types of medication error that can occur?
There are a range of circumstances that can lead to medication errors taking place. Being aware of the different types can go a long way towards helping you understand where to begin when it comes to putting your claim forward.
You don't have to do this alone, however. When you contact us, we will work with you to help establish the type of medication negligence that has occurred. Together, we will be able to identify where the errors have come in and, once we have covered every aspect of your case, what the next steps are.
Some of the most common types of medication error include:
Wrong medication dispensed
Your doctor may have given you the right prescription, but the dispensary in the pharmacy or the nurse made an error. They may have given you the wrong drug or made medication calculation errors that result in you being given an incorrect quantity. They could have even put the wrong label on the pack.
The result of these medication errors in nursing or by pharmacies could be that you have taken a drug that will not only be unlikely to assist your condition, but it could prove potentially harmful.
Nearly every medication prescribed comes complete with detailed and precise dosage instructions. If your doctor or GP makes medication calculation errors that result in you being given the wrong strength or quantity of medication, serious implications can arise.
Too little medication can mean that your condition remains effectively untreated and you develop further symptoms; too much can result in a dangerous overdose.
If the duration or course of medication prescribed is too long due to medical error, it may be damaging. This can also occur when repeat prescriptions are given without the doctor consulting with the patient on a regular basis. It also follows that taking a drug for too short a time may mean your condition is prolonged or may even intensify.
If you have reacted badly to a drug in the past, or have recently developed an allergy, your doctor needs to act accordingly. This information must be entered into your notes to ensure that you are not given the same medication again. The doctor also needs to act fast if you develop a new allergic reaction that puts your health at risk.
If the correct procedure is not carried out by your doctor and those who are administering your medication are not made aware of your allergies, this is where errors can occur.
For example, there will be good practice guidance in place within a care home to ensure that people working in the facility know and understand the medical needs of their residents. If things go wrong and someone is given medication that they are allergic to, the series of medication errors in the care home that led to this happening will be looked at and can be classed as an example of negligence.
A doctor should know that combining certain medications can be dangerous. For this reason, they should always check your present combination is safe. If this is not done, and serious complications occur, this can be classed as medical negligence.
How will I know if I need to make a claim for a medical error?
If you have suffered any of the above errors, or one similar, you potentially have a claim for medication error compensation. If you are unsure about whether you could have a case, contact us and we will do all we can to help you.
You should consult our expert medical negligence legal team as soon as possible, as time limits apply.
Perhaps you are still feeling the effects of medical errors, or you recovered but your income was reduced as you've had to miss work. Whatever your circumstances, if we take on your claim and are successful you could be entitled to some financial compensation.
Please note that we do not deal with claims against the pharmaceutical industry for the manufacturing or testing of drugs/ medication and any side effects suffered as a result of taking this medication.
No Win No Fee Medication Error Claims
If you or a member of your family have suffered following a medication error, please contact us and a member of legal team will provide you with an initial free consultation.
At Been Let Down we take on the majority of cases on a 'No Win No Fee' basis. What this means is that in the unlikely event that your medication error claim is not successful, there will be no cost to you. If we are successful in securing compensation for you, then we will be paid a fee as a proportion of your medication error claim amount.
We're experts at dealing with medication error compensation claims
If you believe you are eligible to make a medication error claim get in touch with Been Let Down.
You can make an online enquiry, call us or ask for us to call you back at a time that is convenient for you.
A member of our legal team will find out more about your case and assess your chances of making a claim. We are with you at what we understand can be a difficult time, so get in touch today and we will help you recover from the medication error that has impacted your life.
Contact us today
Get in touch now and find out how we can help with your case for medication error compensation.
Please call us on 0800 234 3234 or contact us and a member of our legal team will call you back.