Medical Negligence Solicitors
Ophthalmic Claims
We know how important our sight is and ophthalmic injuries can come as a shock and have life-changing consequences. If you have suffered an eye injury as a result of medical treatment we have the experience and expertise to let you know if you have a valid claim for compensation.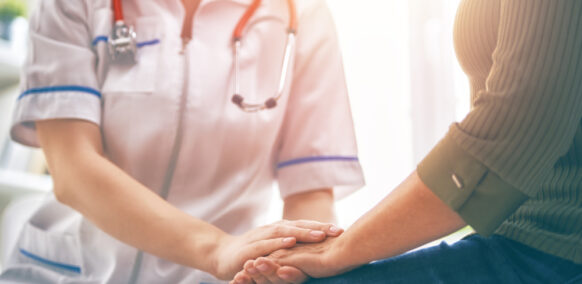 Ophthalmic Compensation Claims
From initial discomfort or irritation to your eye to complete loss of sight, ophthalmic injuries can come as a shock and have life-changing consequences. Making an ophthalmic claim with Been Let Down's experienced solicitors could get you the financial, medical and emotional support you deserve if another individual or organisation is at least partly to blame.
The Royal National Institute of Blind People reports that as many as 250 individuals begin to lose their vision every day. (Source RNIB). Whatever the severity and cause of your injury, read on to find out more about how we can help if you think you may be able to make a loss of sight claim.
What is an ophthalmic injury?  
The word ophthalmic is simply used to describe anything relating to the eye and its diseases. Ophthalmic injuries, as a result, can include any damage to your eyeball, your eye socket, or even the muscles that control your eye's movement within its socket.
The eye is extremely delicate, and injuries can vary in severity. Some are easily treatable, while others can lead to permanent blindness. Common causes include direct physical trauma, such as a sudden blow; exposure to toxic substances or smoke; and diseases such as Macular degeneration, glaucoma and diabetic retinopathy.
Loss of vision, however severe and long-lasting, can impact almost everything you do in your personal and professional life; from socialising with loved ones to driving and reading. Getting appropriate compensation for loss of sight can help you and those around you adapt and rebuild your lives.
Could I make an ophthalmic claim?
Accidents happen and acts of negligence are rare – yet the consequences of an eye injury can affect you for the rest of your life. You may lose out on earnings and be forced to pay for treatment and ongoing care. When combined with the significant physical and mental impacts, this extra expense can feel especially unfair if someone else was to blame.
You could claim damages for loss of sight if you can prove that another individual or organisation was at fault. A specialist solicitor will be able to tell you if they think you have a valid claim. Ophthalmic injury cases can be complex, depending on the degree of impact on your future, so choosing the right legal expert is essential to get the compensation you need and deserve.
Why choose Been Let Down's ophthalmic claims solicitors?
Starting a loss of sight claim can feel intimidating when you do not know where to turn. Whether you are claiming for yourself or on behalf of a loved one, here at Been Let Down we have the necessary experience, expertise and empathy to ease the pressure and secure the outcome you are hoping for.
We are a fully independent law firm and will work with only your best interests in mind – not those of an insurer or another third party
We support clients nationwide from our base in the northwest of England and are more than prepared to visit you at home or in hospital when required
Our initial consultation is free of charge. If you decide to go ahead, your dedicated team will update you on the progress of your claim throughout
We could take your case on a 'No Win No Fee' basis, so you will not need to pay anything in the event that your claim is unsuccessful
How do I start my loss of sight claim?
Whether you are confident that you have a claim or not, we can help you get a better idea of where you stand. Call our friendly team free on 0800 234 3234 or request a call back for a more convenient time. You can also enquire online if you would prefer.
Your initial consultation is free of charge and you are not obliged to continue with your loss of sight claim if you do not wish to. We will simply talk through your injury, the causes behind it and its impact, in order to give you an honest judgement of the strength of your case.
Every claims process is different beyond this stage, but whatever your situation, rest assured that our legal experts will support you every step of the way.
What are the different types of ophthalmic injury?
NHS statistics show that almost two million people are living with sight loss in the UK. Eye injuries can range in severity, which will influence the level of compensation you could expect to receive. They can occur in a split second or over time in a variety of environments, from work to sports fields and public places. (Source NHS).
Common types of ophthalmic injuries include:
Complete or partial blindness, forcing significant lifestyle adaptations
Scratches or impacts caused by foreign bodies, assault or equipment
Environmental or chemical damage following exposure to harmful light, smoke or substances
Any damage to such a vital and fragile organ should be treated as serious. Whether you are claiming compensation for loss of sight in one or both eyes or a milder case of temporary discomfort or visual disturbance, speak to one of our specialist solicitors today to get clarity on your situation and move closer towards a resolution.
How much compensation for loss of sight could I get?
We will first need to learn more about your situation and to obtain medical evidence in this regard before we can give you an accurate idea of how much compensation you could receive. Every loss of sight claim is different, and your award will depend on the impact your eye injury has had on your life and those around you.
Your ophthalmic claim solicitor will work to ensure you are awarded an appropriate amount of compensation. This figure could cover:
Medical treatment such as prosthetics or laser eye surgery
Loss of earnings
Ongoing care and rehabilitation
Adaptations to equipment, or to your home
We take most cases on a No Win No Fee basis, so you do not need to worry about the legal costs if your claim is unsuccessful, unless the claim is fraudulent or you have failed to comply with our reasonable requests to pursue your claim. If your case is successful and you receive an award, we will collect a pre-agreed share of any compensation as payment to cover the costs of our legal services.
Is there a time limit to claim damages for loss of sight?
You will have up to three years from the date of the incident, or your later date of knowledge that something may have gone wrong with your treatment causing you a sight injury, to make an ophthalmic claim. You could have longer to claim on someone's behalf if they are not in a fit mental state to do so themselves as a result. If you are a parent or guardian, you can also claim on a child's behalf until they reach the age of 18.
We appreciate that money may not be the first thing on your mind after suffering a serious eye injury, but it is important to contact our team as soon as you are ready. Getting in touch sooner rather than later will make it easier for us to gather evidence such as accurate witness statements and could increase the chances of your claim being successful.
Your next steps if you have Been Let Down
Have you or a loved one suffered an eye injury as a result of medical treatment? Here at Been Let Down, we have the experience and expertise to let you know if you have a valid claim for compensation for loss of sight.
We are here to help you and get you the financial and practical support you need. Call our team on 0800 234 3234 to arrange a call back or send an online enquiry – whichever suits you.
Your initial consultation is free, and there is no pressure to continue with your claim if you would prefer not to.
Contact us today
Get in touch now and find out how we can help with your case for Ophthalmic compensation.
Please call us on 0800 234 3234 or contact us and a member of our legal team will call you back.