Medical Negligence Solicitors
UK Hospitals with Special Measures
In the UK, a number of hospital trusts have been placed in 'special measures'. If you or a loved one has suffered because of poor care at one of these trusts, we may be able to help. Our medical negligence solicitors are already helping people in your situation seek compensation, so contact us today to find out how we can help you with your claim.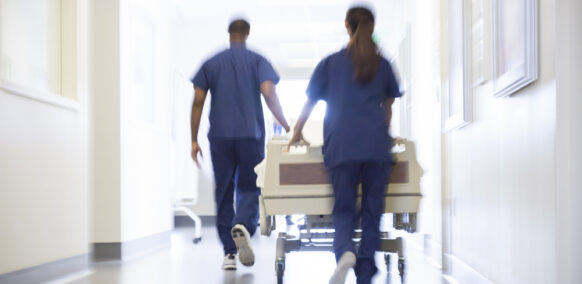 What does special measures mean for a hospital?
The term 'special measures' is used when hospitals are deemed to have serious problems with the quality of care they provide. It also applies to issues with their financial performance.
Hospitals under special measures require intervention by an external team to make the necessary improvements, as the existing leadership are unable to do so.
The concept of special measures was introduced in the Keogh review in February 2013 by Professor Sir Bruce Keogh, who was medical director of the NHS in England. At the time, he picked out 14 hospitals with outliers in terms of mortality rate.
Although mortality was the defining factor for inquiry, the actual review was based on the quality of care and treatment in each hospital. This was evaluated in six key areas:
Patient experience
Workforce
Safety
Leadership and governance
Clinical and operational effectiveness
Mortality
NHS blunders and medical negligence are more common than most people think. So, it is important to know whether you have been a victim of poor care at one of these NHS hospitals in special measures.
In total, there have been 28 trusts placed in special measures, many of which have seen significant improvements that have been sufficient enough to warrant a removal from the list.
As of July 2021, the 'special measures' programme was replaced by the Recovery Support Programme. By July 2022, there were 20 in special measures, including:
Barking, Havering and Redbridge University Hospitals NHS Trust
Date placed in special measures: February 2018.
The Trust was also placed into special measures for care quality concerns in December 2013.
Reason: Financial
This hospital trust was placed in special measures after their financial position was discovered to have rapidly 'deteriorated', requiring a £15 million bail-out loan from NHS Improvement.
The NHS hospital was originally placed in special measures in 2013 because of concerns over patient safety, especially in A&E, due to an over-reliance on locum doctors and a lack of consultants and mid-grade medical staff.
East Sussex Healthcare NHS Trust
Date placed in special measures: September 2015
Reason: Financial and Quality
Hastings' Conquest Hospital and Eastbourne District General Hospital were both rated 'inadequate' by the Care Quality Commission (CQC). As such, the hospitals were placed in special measures.
In January 2017, further inspection by CQC showed improvements, but ongoing problems in A&E due to poor staffing levels, poor record keeping, and not meeting patient waiting and treatment targets, persisted. A previous concern of bullying "appeared to have been tackled", according to the CQC. The trust says it is now focused on the recruitment of more permanent clinicians and reducing patient waiting times.
Walsall Healthcare NHS Trust
Date placed in special measures: January 2016
Reason: Quality
Walsall Healthcare NHS Trust was originally assessed by CQC in September 2015 due to problems in maternity and A&E services. There was also evidence of bullying by senior management, and low staff morale. In December 2017, a follow-up inspection by CQC showed considerable improvements, with services then rated good and outstanding.
Despite the improvements, the hospital is under special measures while improvements are continuing, including delivery of the ongoing A&E action plan that was drawn up in September 2015; patient consent in gynaecology; and the sharing of lessons learned following incidents and complaints.
Worcestershire Acute Hospitals NHS Trust
Date placed in special measures: December 2015
Reason: Quality
Worcestershire Acute Hospitals NHS Trust was put in special measures in 2015. This followed CQC inspectors raising concerns about safety in its A&E, children's care, and maternity and gynaecology services.
Two years later, in January 2017, the trust hit the headlines again after two patients died having experiencing long delays in receiving care. One of these patients suffered an aneurysm while waiting on a trolley located in a corridor, and later died as a result, the other patient died due to cardiac arrest.
While the hospital was under special measures, the trust has also been publicly exposed for not assessing 10,000 x-rays, leading to serious concerns that illnesses may have gone undiagnosed.
Other trusts in special measures
As well as the trusts highlighted above, there are more hospital trusts in the special measures Recovery Support Programme. These are:
East of England Ambulance Service NHS Trust
Norfolk and Suffolk NHS Foundation Trust
King's College Hospital NHS Foundation Trust
Hillingdon Hospitals NHS Foundation Trust
Shrewsbury and Telford Hospital NHS Trust
University Hospitals of Leicester NHS Trust
Nottingham University Hospital NHS Trust
Northern Lincolnshire and Goole NHS Foundation Trust
University Hospitals of Morecambe Bay NHS Foundation Trust
Liverpool University Hospitals NHS Foundation Trust
East Kent Hospitals University NHS Foundation Trust
Medway NHS Foundation Trust
South East Coast Ambulance Service NHS Foundation Trust
University Hospitals Plymouth NHS Trust
Norfolk and Waveney Integrated Care Board (ICB)
Cambridgeshire and Peterborough ICB
Shropshire, Telford and Wrekin ICB
Lincolnshire ICB
Devon ICB
Why choose Been Let Down to make a claim against a hospital in special measures?
We are highly experienced medical negligence specialists
If you have suffered from medical negligence because you have been treated at a hospital under special measures, we are here to help. As highly experienced medical negligence specialists, we can advise you on whether you have a successful claim, so you can get back on track after suffering from a preventable medical error.
We are an independent law firm
As a fully independent law firm regulated by the SRA, all our experts with act with utmost professionalism and integrity while keeping your best interests at heart. This means that when you choose to pursue a claim with us, you can be sure that you are receiving the best advice about your claim.
We are leaders in the field of medical negligence
As leaders in the field, we will always work to get you the best possible outcome and the maximum compensation. You are in safe hands with Been Let Down.
Make a claim against a hospital under special measures
If you think you might have a case against an NHS hospital in special measures, get in touch today. Our expert team will be able to discuss your case and let you know more about how we can help you secure medical negligence compensation from a hospital in special measures.
Please call us on 0800 234 3234  or contact us and a member of our legal team will call you back.